Cyber Security Services
We perform information security audits, assessment, implementation, certification, training, monitoring, investigation and recovery for organizations, networks, applications and websites. Start with our free assessment of your organizational and technical security.

Security Assessment

Managed Security

IT Security and IT
How we work and what you get
Project Workflow of a typical one-time security assessment, implementation, investigation, recovery or training project is the following:
Formalities →
We sign your Non-Disclosure Agreement and commit to confidentiality.
Clarification →
You answer our questions about the conditions and environment to help us define your requirements and expectations.
Preparation →
We analyze your source data and develop the Statement of Works and the project plan. For most projects, this stage is performed free-of-charge.
Deal →
We send you a detailed commercial proposal, including Statement of Works and project plan. Those documents define all detailed conditions and parameters of the project. You accept our proposal and approve the documents. Then you and we sign the Service Agreement.
Field works →
Depending on the Statement of Works, we perform security assessment, investigation, recovery, implementation, training or other works.
Report
The
Project Report
describes the findings and outcomes of the project. In addition, we make recommendations and roadmaps for further improvements.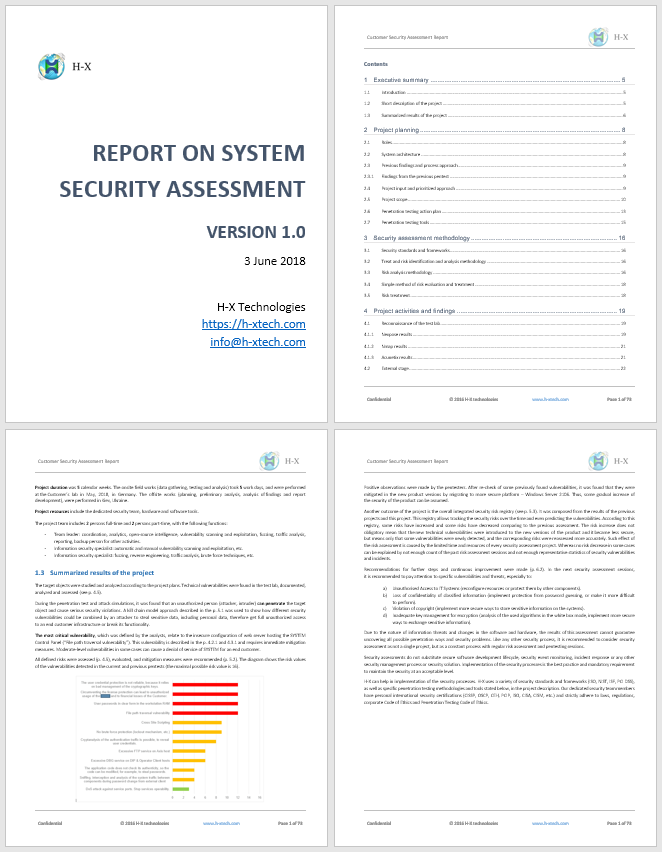 Project Report includes all project deliverables.
Simple report structure is described below. Depending on the pentest requirements, conditions, restrictions and parameters, the report can include more additional sections.
Executive summary.
Planning and methodology.
Security assessment results:
Identified non-compliances with security standards and best practices.
Identified vulnerabilities and their exploitation ways.
Details and evidences (logs, dumps, screenshots, etc.).
Risk assessment.
Recommended security measures, grouped and prioritized.
The project is completed, and now you can start planning another one. However, subscribing to our Continuous Services is more convenient and provides you with a high level of security due to continuous monitoring and upgrade of your security.
---
Service customization
Please combine these popular requests to define your needs:
Who we are, what we do, and what partnership we offer.