Information Security Assessment Services
We provide penetration tests, ISO 27001 and PCI DSS implementation, application security, software engineering, audits and other information security consulting services. Select the service you are interested in.

FREE Scan
Automated black-box website security assessment. Prompt result. Different scan modes, depth and quality. Choose free-of-charge on-demand testing or cheap subscription to continuous monitoring.
Learn more
.

Express Pentest *
Deeper automated and manual black-box and gray-box security assessment of websites and networks. Vulnerability verification. Standardized project planning, risk assessment, remediation recommendations and reporting. Only 150$ per IP address or 1500$ per website.
Details
.

Full Pentest *
Comprehensive manual and automated security assessment of websites, networks, applications, etc. Optional DoS/DDoS-attack modeling, social engineering tests and reverse engineering. Vulnerability verification and exploitation. Customized project planning, risk assessment, remediation recommendations and reporting. Vulnerability mitigation assistance and retest after mitigation.
Details
.
* Subscribe for 12 months and get 4 quarterly penetration tests with 10% discount.
What's next? Compare services in detail. Customize your request. Learn more about pentest process and results.
---
Compare Service Details
Scope and parameters
FREE SCAN
EXPRESS PENTEST *
FULL PENTEST *
Analysis of web­sites, web apps
max 20 pages per website
Analysis of networks
-
min 16 hosts
Analysis of desktop or mobile appli­cations
-
-
Black box mode
Gray box mode
-
limited (1 user role)
optional
White box mode (incl. code review)
-
-
optional
OWASP top 10 tests
partial
SANS top 25 tests
-
partial
Open-source tools
Commercial tools (Qualys, Acunetix, Nessus, Burp, etc.)
-
partial
Cyber hooligan / script-kiddie attacker model
-
Purpose­ful profes­sional attacker model
-
-
Automated search
Manual search
-
8 man-hours
DoS/DDoS-attack modeling
-
-
optional
Social engineering tests
-
-
optional
Reverse engineering
-
-
optional
Vulnerabi­lity verifica­tion
-
Vulnerabi­lity exploita­tion
-
limited (public exploits)
Project planning
-
templated
customized
Risk assess­ment
-
templated
customized
Remediation action plan
-
templated
customized
Report
templated
templated
customized
Compliance (PCI DSS, SOX, HIPAA, etc.)
-
-
optional
Vulnerabi­lity mitigation assist­ance
-
on demand
optional
Retest after mitigation
on request
on demand
included
Ready to start
immediately
2 to 4 days
1 week
Duration
Scan: 5 min/2+ hours.
Monitor: conti­nuous­ly
6 days
2 to 5 weeks
Price
Scan: free.
Monitor: 54 $/month
150 USD per IP address.
1500 USD per website
Individual
* Subscribe for 12 months and get 4 quarterly penetration tests with 10% discount.
---
Service customization
Please choose what is interesting for you, and send us your choice:
---
How we work and what you get
Project Workflow of typical pentest is the following:
Formalities →
We sign your Non-Disclosure Agreement and commit to confidentiality.
Clarification →
You answer our questions about the conditions and environment to help us define your requirements and expectations.
Pre-engagement →
We analyze your input and develop the Rules of Engagement (RoE) and the project plan.
Approval →
We send you detailed commercial proposal, including Rules of Engagement and project plan. These documents define all detailed conditions and parameters of the penetration test. You accept our proposal and approve the documents. Then you and we sign the Service Agreement.
Field works →
Passive pentest phase begins with Open-Source Intelligence (OSINT). Active pentest phase includes vulnerability identification, verification, exploitation and evidence collection. Then we assess risks of each found vulnerability and develop recommendations on vulnerability mitigation and continuous improvement.
Report
The
Security Assessment Report
describes the findings and what should be done to improve your security. We consult on vulnerability mitigation and perform a retest on demand. The project is completed.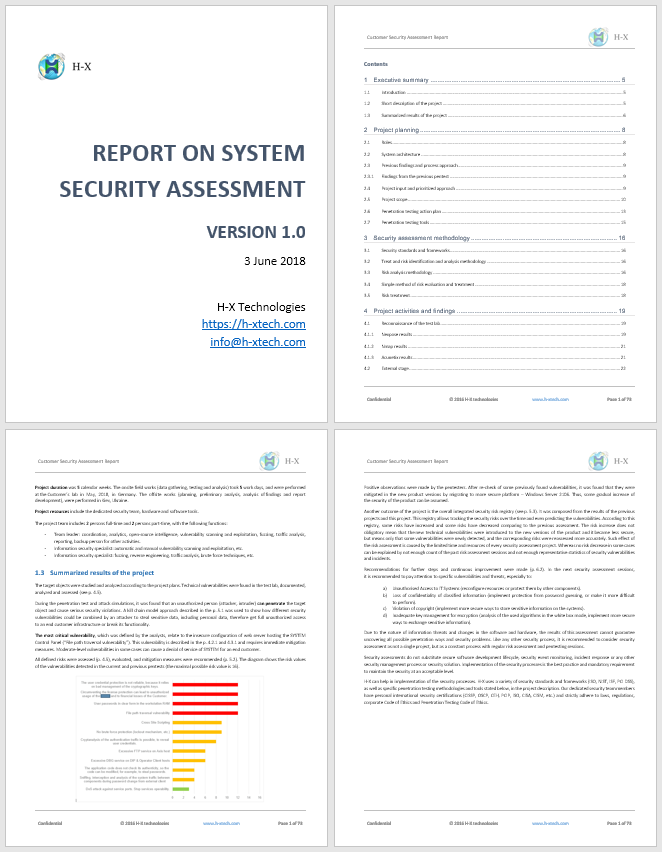 Security Assessment Report includes all project deliverables.
Simple report structure is described below. Depending on the pentest requirements, conditions, restrictions and parameters, the report can include more additional sections.
Executive summary.
Planning and methodology.
Security assessment results:
Identified vulnerabilities and their exploitation ways.
Details and evidences (logs, dumps, screenshots, etc.).
Risk assessment.
Recommended security measures, grouped and prioritized.
Go top, choose pentest type and order.
Who we are, what we do, and what partnership we offer.